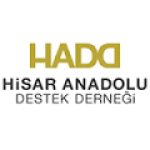 Cause Empowerment, Women
For Profit or Not For Profit Not For Profit
Contact Servet Harunoğlu
Auditor Kerim Harunoğlu, Umut Kınacı, Asya Orhon
Mission & Activities
Founded in 2010, Hisar Anatolian Support Society (HADD) works with 130 women aged between 16 and 24 from low-income nomadic families who were forced to migrate to the city of Van in Eastern Turkey. The Association consists of five ateliers (workshops) under the supervision and training of Mr. Enver Özkahraman, a master of Kilim weaving and natural yarn dyes.
Armed conflicts during the 90s forced families to abandon their nomadic tradition in the villages and settle in the outskirts of the Van city. These refugee communities continue to suffer from high unemployment and, unfortunately, this situation is much worse for the women as illiteracy rates reach 45%.     
Many of the young women who attend the kilim workshops are the sole breadwinners for their families, some of which have up to 18 members. Through attending HADD workshops, they receive vocational and educational trainings : they learn the traditional art of dying wool and Kilim weaving as well as literacy, computer and IT education. These workshops provide a safe haven for the women to meet freely outside of their homes, socialize, build friendships, pursue education and escape from child marriage.
Since 2 years, with the support of UNDP Coca-Cola fund, 22 members of our group set up the Tuşbal Cooperative for its beekeeping program : after receiving trainings, they started to manage their business and produce high quality honey, as well as apiary products like queen bees, propolis and honey soap. The members own the hives and the project is still expanding in 2016.
Learn more about the reason we launched the NGO in this short documentary movie:
Main figures & Metrics
| | | | | |
| --- | --- | --- | --- | --- |
|   | # girls attending the workshop: | # girls attending university* | Yearly Budget (TL) | Operational expenses |
| 2012 | 60 | 0 | 110.000 | 18.000 |
| 2013 | 90 | 0 | 227.000 TL | 23.000TL (10%) |
| 2014 | 130 | 2 | 175.000TL | 31.000 |
Source of funds
In 2014, most of our funds came from individual donation (60%), the rest from foundations like EM Power, Aschmore Foundation and Turkish Philantropy Fund or from corporate donation (Turkcell). All Kilims are marketed by our economic institution.
For 2015, we will receive funds from UNDP and Coca Cola for our new project to grow queen bees.
Board & staff
ChairmanServet Harunoğlu
Board MemberŞerife Karamehmet
Board Memberİsmail Sefa İnanç
Board MemberEmre Nişancı
Board MemberAteş Güneş
Secretary GeneralBerrin Apaydın
Bank details
GARANTİ BANKASI
VALİKONAĞI (183) Şubesi
TL
TR75 0006 2000 1830 0006 2978 30
$
TR87 0006 2000 1830 0009 0886 92
€
TR17 0006 2000 1830 0009 0886 91
People who have already volunteered