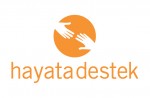 Cause Protection, Natural Disasters victims
For Profit or Not For Profit Not For Profit
Contact Sema Genel Karaosmanoğlu, Director
Auditor Birleşik Uzmanlar
Mission & Activities
Support to Life (Hayata Destek):
Is an independent humanitarian agency working in the field of disaster risk reduction, disaster preparedness, and emergency response in Turkey and the surrounding region.
Is a humanitarian aid agency who works at grassroots level to build local capacity, mitigate the risks and impact of disasters, and support those in need in meeting their basic needs and rights with an emphasis on community participation.
Is a Turkey based NGO that acts with the principles of humanity; impartiality, neutrality, independence and accountability,
Is an efficient, experienced and trustable rights- based humanitarian aid organization,
Objectives:  The major objective of STL is to provide access to the basic rights and meet the needs of individuals affected by natural and man- made disasters in Turkey and Middle East Region. Taking the humanitarian aid one step further from distributing emergency aid, STL seeks to provide medium and long term needs of communities affected by disaster.
 
WHAT WE DO?
Ongoing projects:
Refugee Support Programme: With the increasing number of Syrian refugees crossing to Turkey, STL has continues implementing food security and protection activities. Psycho-social, vocational and language courses are provided at Support to Life Houses (Community Centers) in order to offer relief and well-being to Syrians refugees at located in Hatay, Şanlıurfa and İstanbul. Food security program is also conducted in Diyarbakır and Batman along with variety of community based psychosocial support interventions to strengthen the coping mechanisms of disaster affected community.
Child Protection Programme: STL has successfully managed to raise awareness on child labor amongst the public and achieved the formation of a Parliamentary  Investigation Committee on seasonal agricultural work with Bu İş Çocuk Oyuncağı Değil(This Is No Child's Play) campaign. As the need arises with refugee children joining into this sector, the project expanded to different areas with in Turkey and continues to support children who are involved in seasonal agricultural work to reach their basic rights. For more information, please visit www.buiscocukoyuncagidegil.com, oradaneisivar.com
Emergency Response Programme: STL launched an emergency relief program for Syrian and Iraqi refugees who fled to Turkey as a result of the renewed wave of violence in the region in the summer of 2014. In the context of the emergency relief aid; distribution of food packages, household items and winter clothing were realized. Also shelter conditions were improved.
Disaster Preparedness and Risk Reduction Programme: STL is one of the founding members of the Civil Society Disaster Platform (CSDP), which that aims to bring together under one roof all non-governmental organizations that work or have the potential to work in the area of minimizing disaster risks and responding to disasters.
Main figures & Metrics
Our funds grew with the projects expanded under the Syria program. At first, context of the Syria program which was established as a pilot program in the beginning expanded, therefore the number of our donors increased. During this process, we have started to work with new donors such as EU, IOM, UNHCR. 
 
Cash assistance of Syrian Program
Emergency Program
This Is No Kid's Toy project
Yearly Budget (TL)
operational expenses
 
# Syrian refugees reached  in Şanlıurfa
# Syrian refugees reached  in Hatay
# syrian and Iraqi refugees reached
# of people reached
# civil society organisations reached
 
 
2012
 
 
 
 
 
1.972.211
20.38%
2013
 
 
 
 
 
2.118.068
7%
2014
10.116
25.981
3.700
30.000
25
22.236.156
1%
2015
 
 
 
 
 
30.017.344
1%
Source of funds
Projects are carried through grants, funds and donations. Support to Life works with international non-governmental organizations and institutions of United Nations as well as European Union.

Board & staff
ChairmanSema Genel Karaosmanoğlu
Vice ChairmanBurcu Kuğu Bolak
Secretary GeneralGökhan Erkutlu
Board MemberGonca Grit McDaniel
Board MemberGonca Grit McDaniel
Member of the Board of AuditorsAylin Erkutlu
Member of the Board of AuditorsCem Çağlar
Member of the Board of AuditorsBesim Çalışkan
Bank details
Finansbank
Bebek Şubesi (975)
TL
TR39 0011 1000 0000 0046 8498 36
$
TR44 0011 1000 0000 0046 2626 05
€
TR55 0011 1000 0000 0046 2626 01
People who have already volunteered