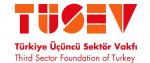 Cause Democracy, Civil Organizations
For Profit or Not For Profit Not For Profit
Contact Liana Varon
Auditor HAYATİ ŞAHİN - Birleşik Uzmanlar YMM ve Bağımsız Denetim A.Ş.
Mission & Activities
TUSEV was established in 1993 by Turkey's leading civil society organizations, and has grown to a supporting network of over 100 associations and foundations that share a vision of strengthening the legal, fiscal and operational infrastructure of the non-profit sector in Turkey.
 
TUSEV's programming is designed to:
Promote a legally and fiscally enabling environment for non-profit organizations,
Encourage strategic and effective giving,
Facilitate partnerships across the public, private & third sectors,
Support and engage the international community in learning about and collaborating with the Turkish third sector,
Conduct research on the sector's role, needs and dynamics to serve as a basis for civil society strengthening initiatives.
Main figures & Metrics
 
Developing information sources about civil society and philanthropy through publications and meetings/conferences
Strengthening the international relations of civil society organizations in Turkey
Raising awarness on the issues related with CSOs in Turkey
Total Revenues (TL)
 
2011
CIVICUS CSI Country Report:Civil Society in Turkey: At a Turning Point
European Movement International Conference
www.tusev.org
www.sosyalgirisim.org
E-newsletters (TR& ENG)
Social Media (Facebook and twitter)
Media visibility
708.008
 
2012
Civil Society Monitoring Report 2011
Good Practices and Guidelines for CSR Programmes
International Social Entrepreneurship Conference
Same
+ www.degisimicinbagis.org
1.193.297
 
2013
Civil Society Monitoring Report 2012 
Inspiring Stories and Guidebook for Individual Donors
New Approaches in Civil Society Conference
Civil Society Public Sector Cooperation International Conference
idem
2014 Expected
Civil Society Monitoring Report 2013
WINGSFORUM 2014
 
 
2015
 
 
 
 
 
Source of funds
Board & staff
ChairmanProf. Dr. Üstün Ergüder
Vice Chairmanİnal Avcı
Vice ChairmanTimur Erk
Secretary GeneralTevfik Başak Ersen
Deputy Secretary GeneralLiana Varon
Board MemberZerrin Koyunsağan, Sabancı Foundation
Board MemberMine Yıldız Günay, Turkish Education Foundation
Board MemberCandan Fetvacı, Aydın Doğan Foundation
Board MemberDeniz Ataç, TEMA Foundation
Board MemberAlparslan Tansuğ, ENKA Sports, Education, and Social Assistance Foundation
Board MemberHasan Süel, Vodafone Turkey Foundation
Board Memberİlhan Üttü, Elginkan Foundation
Board MemberSelim Güven, Anadolu Foundation
People who have already volunteered