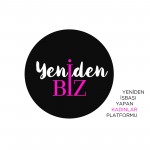 Cause Empowerment, Women
For Profit or Not For Profit Not For Profit
Contact Neyran Akyildiz
Auditor Inci Haseki
Mission & Activities
YenidenBiz aims to support employment of women who are key for growth of Turkish economy and welfare but are disadvantaged in inclusion and equal opportunities in social and economic environments.
The core women group YenidenBiz relates its activities, are experienced, educated (university and above), mid-aged women, mostly with familial and parental responsibilities, who have taken a break in their career due to some reason and excluded from labour force.
These unemployed women want to join workforce but are excluded and discriminated due to their off-ramping, their competencies and skills are granted as out-of-date by recruiters, which often happens subconsciously. As a result, these women with education and transferrable skillset, are excluded from the system and left to live with with disproportional economic and social opportunities compared to their potential. YenidenBiz stands against discrimination in recruitment processes.
YenidenBiz supports "efforts to promote access to decent work and equal pay for all women".
Main figures & Metrics
| | | | | |
| --- | --- | --- | --- | --- |
|   | % of placement | # of candidatesregistredwithus | # interactions reached through trainings/activities | Annual Budget (TL) |
| 2014 | 10% | 150 | 570 |   |
| 2015 | 10% | 200 | 1.000 | n.a. |
| 2016 | 15% | 500 | 1.500+ | 120.000 |
|   |   |   |   |   |
Source of funds
Individual membership: 6%, corporate membership: 43%, donation & other: 52%
Board & staff
ChairmanAyşe Güçlü Onur
Vice ChairmanMehmet Köksal
Board MemberDidem Altop
Board MemberMelek Pulatkonak
Board MemberGöknil Bigan
Board MemberEsra Akin
Secretary GeneralNeyran Akyildiz
People who have already volunteered