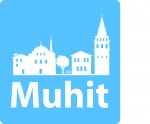 Cause Democracy, Everyone
For Profit or Not For Profit Not For Profit
Contact Sera Tolgay
Auditor YOK
Mission & Activities
Muhit, which means  "neighbourhood" in Turkish, is a crowdsourcing platform at the neighborhood level where people can suggest improvements for their communities. Muhit not only aims to harness local participation through idea submissions from residents but also takes its strength from the central involvement of muhtars, independent local governors who are in close contact with the neighborhood.
Through Muhit's web and mobile apps, people are able to submit their ideas or suggestions, others in the community can see and support these ideas, the muhtar is able to view these ideas and can take various actions, such as solving it independently or communicating it to relevant agencies.
Given the shortcomings of top-down planning, increasing awareness about urban issues and high rate of social media use in Turkey, our team came up with the idea for Muhit to empower communities at the grassroots level by establishing an online communication network between residents and local governors.
Muhit was selected as a finalist in the "Things Challenge," organized by Techsoup Europe and Community Volunteers Foundation, and subsequently won the public voting phase, receiving a grant to implement the project. We will be launching our pilot project in select neighborhoods in Istanbul in the coming month.
Main figures & Metrics
| | | | | |
| --- | --- | --- | --- | --- |
|   | # of ideas proposed | # of ideas implemented | # of active communities/ Neighbourhood | Annual Budget (TL) |
| 2015 |   |   |   |   |
| 2016 |   |   |   |   |
Source of funds
We were one of the three finalists of the "Things" competition winning 5.000 USD and mentorship and use of premises from the Bilgi Social Incubation Center
We have two volunteers developing the application
We are currently applying on different (EU) grants
Board & staff
FounderSera TOLGAY
FounderL Daniel Swakman
FounderEce Ömür
People who have already volunteered